Get vaccinated, Central Oregon!
There are many options for getting vaccinated against COVID-19 in Central Oregon. Current vaccination locations are listed below.
It's important to know - regardless of location:
The vaccine is free
No insurance is needed
No identification is needed
If your health care provider is listed below, please choose the corresponding link for a vaccination appointment.
Need a ride?
Medical transportation: For PacificSource OHP, call LogistiCare: 855-397-3619. Please allow 48-hours notice to arrange a ride.
Sisters to Redmond: STARS 541-904-5545 or email stars4ride@gmail.com.
Dial-A-Ride: Cascade East Transit 541-385-8680. Please call at least 24 hours in advance of appointment and ask for a separate return trip.
Who is eligible for the COVID booster?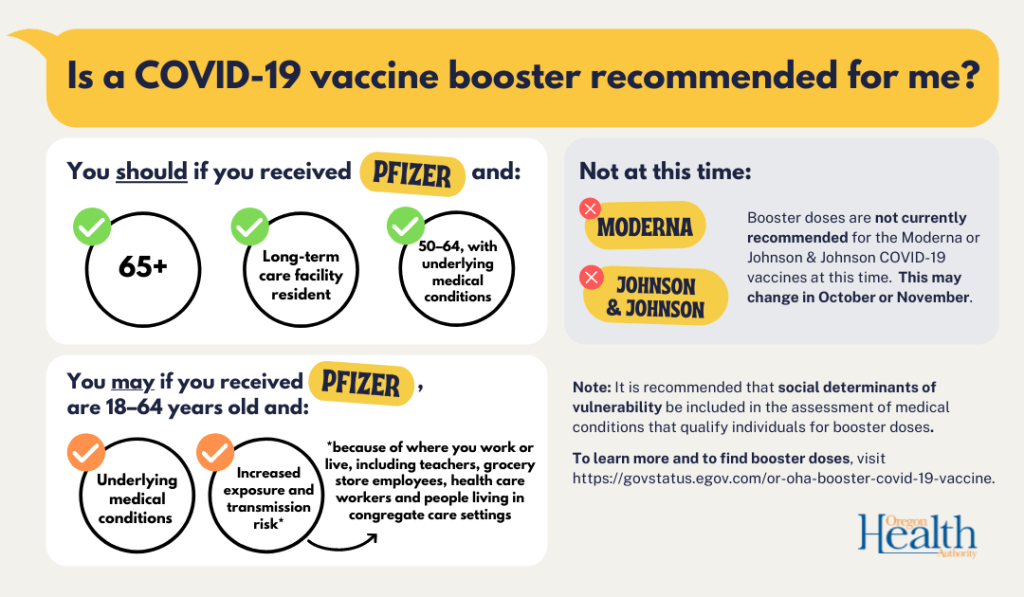 How to get your COVID booster (third dose)
Currently, we are *only* providing the Pfizer-BioNTech COVID-19 vaccine boosters to established patients at St. Charles clinics. If you are an established patient at a St. Charles clinic, please call that clinic. Otherwise, here are your best options:
1. Call your primary care provider.
2. Check out the local vaccination options in the boxes below.
3. Visit your friendly neighborhood pharmacy and ask them about getting a booster.
4. Call your county's health department and ask them about your options.
All of these will move you closer to a booster faster than calling a St. Charles hospital.
Monoclonal Antibody Treatment
Have you recently contracted COVID and at high risk for developing severe symptoms? You might consider monoclonal antibody treatment. Monoclonal antibodies neutralize SARS-CoV-2 to help patients fight and recover from COVID-19. Being treated as soon as you are diagnosed with COVID-19 may limit the amount of virus that develops in your body, which can help you recover from the infection. Patients cannot self-refer for this treatment. Please consult with your primary care provider regarding possible risk factors and potential treatment.
Vaccination Options in Central Oregon
Health considerations before your appointment:
If you have had a severe allergic reaction to any vaccine or injectable therapy (intramuscular, intravenous, or subcutaneous), please tell the care team when you come in for your vaccination.
If you have a severe allergic reaction to the first COVID-19 vaccine, you should not receive the second booster vaccine at this time.
If you had COVID-19 in the past 90 days, you may choose to defer the COVID-19 vaccine at this time. Reinfection is uncommon in the 90 days after the initial infection. Please note: You must have recovered from COVID-19 at the time you receive the vaccine.
If you received monoclonal antibodies or convalescent plasma as part of COVID-19 treatment, you should defer the vaccine for at least 90 days after treatment.
If you are immunocompromised, please talk to your healthcare provider before receiving the COVID-19 vaccine.
If you are pregnant, suspect you are pregnant, or are breastfeeding, please talk to your pregnancy health care provider before receiving the vaccine.
Vaccine Fact Sheets