COVID-19
Get the latest information about COVID-19 in Central Oregon.
Body
COVID-19 hospitalizations: fully vaccinated vs. not fully vaccinated
Inpatient numbers are reported each weekday.
As of 4:50 a.m. on Dec. 1, 2021, we have 
25 COVID-19 patients, 6 of whom are in the ICU, with 6 on ventilators.
In the ICU, none of the 6 patients are fully vaccinated. Four patients in the ICU are under the age of 60 and not fully vaccinated.
19 of the 25 inpatients are not fully vaccinated
6 inpatients are fully vaccinated

**A person is considered fully vaccinated against COVID-19 ≥ two weeks after receipt of the second dose in a 2-dose series (Pfizer-BioNTech and Moderna) or ≥ two weeks after receipt of the single dose of the Janssen (Johnson & Johnson) vaccine.**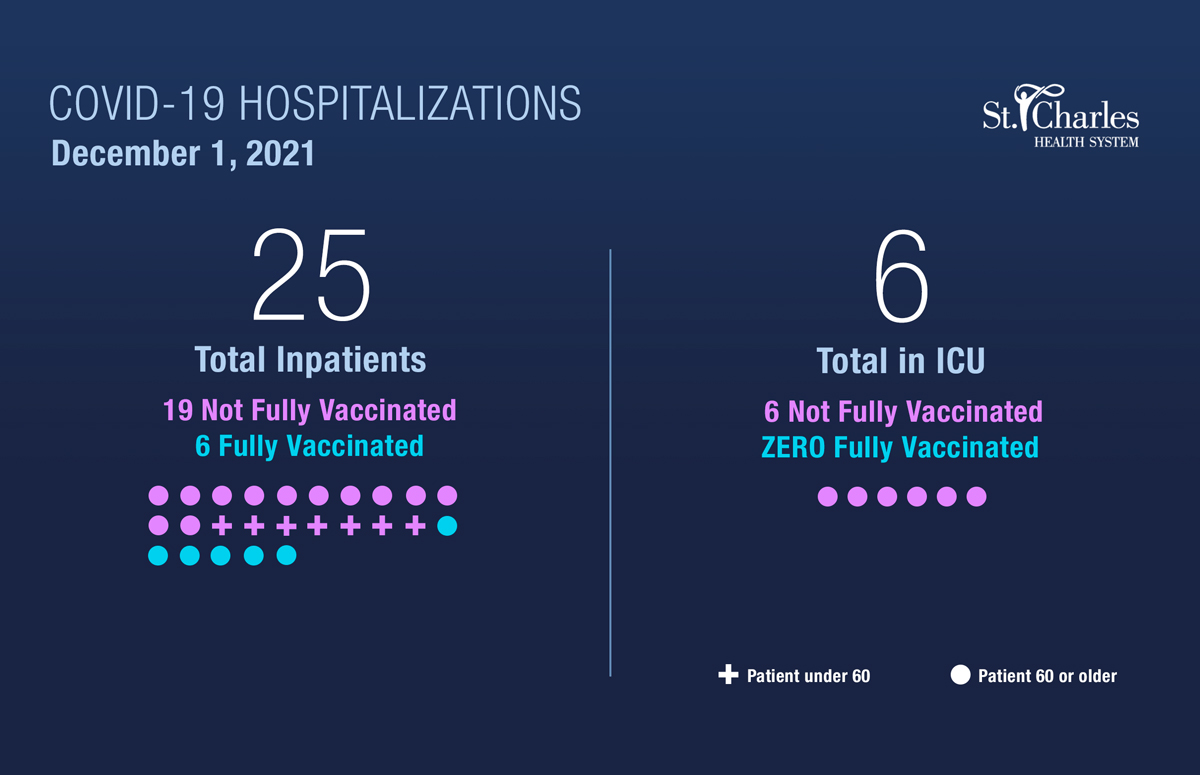 We have 24 ICU beds in Bend and six in Redmond for a total of 30 throughout the health system. While having a low number of COVID-19 patients in the ICU may seem like it's not too big of a deal, it is important to remember that many patients need ICU care for other reasons like heart attacks, strokes or car accidents.
Even though we are seeing patients that have tested positive for COVID-19, we have gone to great lengths to minimize your risk of exposure and help you feel comfortable during your visit. We want to reassure you that St. Charles hospitals and clinics continue to be safe places to receive care. It is important for you to get the care you need when you need it – don't delay. We are here to take care of you.
COVID-19 Symptoms
People with COVID-19 have had a wide range of symptoms reported – ranging from mild symptoms to severe illness. Symptoms may appear 2-14 days after exposure to the virus. People with these symptoms may have COVID-19:
Fever or chills
Cough
Shortness of breath or difficulty breathing
Fatigue
Muscle or body aches
Headache
New loss of taste or smell
Sore throat
Congestion or runny nose
Nausea or vomiting
Diarrhea
This list does not include all possible symptoms. Visit the CDC website for more information.
When to Seek Medical Attention
Look for emergency warning signs* for COVID-19. If someone is showing any of these signs, seek emergency medical care immediately:
Trouble breathing
Persistent pain or pressure in the chest
New confusion
Inability to wake or stay awake
Pale, gray, or blue-colored skin, lips, or nail beds, depending on skin tone
*This list is not all possible symptoms. Please call your medical provider for any other symptoms that are severe or concerning to you.
Call 911 or call ahead to your local emergency facility: Notify the operator that you are seeking care for someone who has or may have COVID-19. If possible, put on a cloth face covering before medical help arrives.
Source: Centers for Disease Control and Prevention - Feb. 22, 2021
---
St. Charles Virtual Town Hall - Aug. 10, 2021
---
COVID-19 hotline
Do you have questions about COVID-19 and, in particular, questions related to our services at St. Charles? Call our hotline at 541-699-5109.
St. Charles clinical caregivers and our partners at Deschutes County Health Services are here and ready to answer your call. The hotline is available to individuals in Crook, Deschutes and Jefferson counties, and will be open from 9 a.m. to 5 p.m. Monday through Friday and 9 a.m. to 1 p.m. on Saturday.